Ad blocker interference detected!
Wikia is a free-to-use site that makes money from advertising. We have a modified experience for viewers using ad blockers

Wikia is not accessible if you've made further modifications. Remove the custom ad blocker rule(s) and the page will load as expected.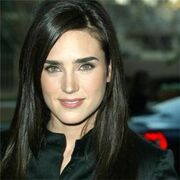 Jennifer Connelly is an actress who has been investigated by synchromystic bloggers. She stars in many films which feature shattered glass in one form or another (see the video Jennifer Jupiter by Jake Kotze), and she shares her initials with Jesus Christ and other "JC" resonators, as well as having a double "N" (NN) and double "L" (LL) in her name.
External Links
Edit
Opening The StarG8 via Jennifer Connelly: Shattered Glass at The Blob
Opening The SatrG8 via Jennifer Connelly: Stars and Stripes at The Blob
Opening The SatrG8 via Jennifer Connelly: Earth Angel at The Blob
Opening The SatrG8 via Jennifer Connelly: Dark Star at The Blob
Jennifer Connelly at Wikipedia